29th Sep 2015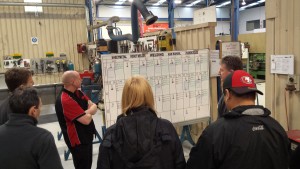 The new Christchurch B2B Lean Network has held its first events recently with hosts Dynamic Controls and GTech New Zealand. The objective for Christchurch's Lean Network is to showcase the great work that is being accomplished by organisations and build stronger links between them outside the regular events as this will lead to greater opportunities for companies to learn from each other. The events are therefore centered around a particular topic so participants can come away with defined learning points they can take back to their own organisations.
Dynamic's focus was their approach to cultural development and engagement of their team in Continuous Improvement activities and showed some great insights into establishing the right environment to foster a strong and engaged team developing new and improved practices within the organisation.
GTech New Zealand's theme was the role that visual planning and scheduling takes in managing workflow and workload through quite varied operations in their manufacturing and service areas. Team Leaders explained the use of the boards in their individual areas of responsibility providing a great personal development opportunity for them.
Next stop is Rx Plastics in November and again the mailout will be through the CICE Network championed by Trish Wilson.